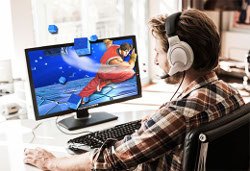 3D Game Market is excited to introduce the 28" 4K Glasses-Free 3D Display by Exceptional 3D. This display can be used to play your favorite PC video games in glasses-free 3D with a more immersive and lifelike feel. Add a whole new dimension to your games. We like to call it "gaming with depth". You can also use this display as a 2D desktop monitor where you can read emails, watch videos, or work on a spread sheet. The images on this display are amazing in both 2D and 3D modes. 3DGM is required for 3D game play.
Native Resolution
- 2D 3840x2160
- 3D 3840x2160 (required)
3D Formats
- Exceptional 3D Multiview (requires compatible applications)
3D Type
- Lenticular Glasses-Free 3D Multiview
Input connectors
- HDMI
Additional information
- Supports multiple viewers
- Requires 4K capable video card for 3D
- 3D gaming via 3DGM
- 3D video not currently available
Free shipping. Tax is included in price. Allow up to 4 weeks for delivery.
Contact us for more information